Volunteering offers you the opportunity to travel off the beaten track, learn new skills, meet new people, and make a difference in a disadvantaged community.
Your teamwork and leadership experience will enhance your resume and make you eminently more employable.
Combine your Africa travel or gap year plans with volunteering in Tanzania. Experience a country voted Africa's top safari destination.
Enjoy the beaches of Zanzibar,  the bustling town of Arusha,  or the hills and mountains surrounding your project. Tanzania's diversity is unmissable.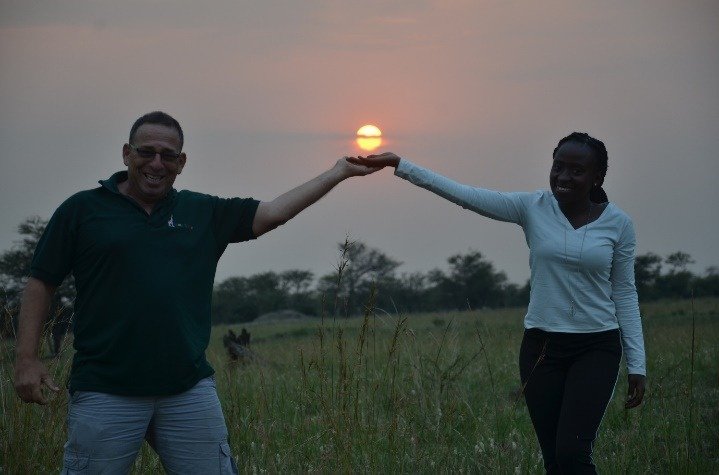 "SIMA SAFARI LIMITED" www.simasafari.com was founded in 2014 by Tanzanian entrepreneur Kokusima Mutabingwa Hovev (Sima) and her husband Alon Hovev, an Israeli businessman. Together they created the IMAGINE community volunteer programme to support the development of young people in areas where Sima Safari operates.
Our Vision is to do good with modesty and love and achieve continuous and positive development of young people in rural communities.
Our Mission is to establish a youth movement and community centres, support learning, impart life skills through sports and extra-curricular activities and provide opportunities for the youth of rural communities to realise their full potential.
IMAGINE aims to give life to each project and engage and train the communities to continue delivering and developing youth activities when our volunteers leave.
Our goal is to assist communities in renovating schools to create a welcoming environment that encourages attendance by offering terrific, during and after school learning opportunities. Our primary focus is to support local communities and provide young people easy access to informal education that promotes a better understanding and broader view of the world around them. English, geography, sport, health, first aid, folk art, horticulture, and the environment are just some of the topics covered, and volunteers are encouraged to share their knowledge on any related subject.
Central to the programme is enhancing school infrastructure and establishing community centres. School facilities will be the base where sports, life skills and activities such as martial arts, fitness training, handicrafts, cooking, art, music, and dance will be offered. Through after-school activities, coaching football, netball, or softball, assisting in school facilities improvement or enhancing reading skills, volunteers can make a real difference to the education and futures of deserving young people.
When you imagine Africa, it's TANZANIA, land of Simba "The Lion King", Mount Kilimanjaro and the Serengeti. Located in East Africa, 4 – 6 degrees South of the Equator on the Indian Ocean, this vast middle-income country has a population of 62 million. At 945,000 SqKm, it's almost as big as Spain and France combined.  25% of the country is comprised of national parks (236,000 SqKm), and the most well known throughout the world are:
Kilimanjaro– The highest mountain in Africa and the    world's tallest freestanding mountain
The Serengeti – Renowned for its abundant wildlife and the great annual migration
Jozani Chwaka Bay Zanzibar – on the Indian ocean 
Ngorongoro crater -Home of the Worlds' densest wildlife population
Selous (Julius Nyerere) is the World's largest national park
Joining the IMAGINE movement is simple. Just submit your profile to us. We will set up a one-to-one online meeting with an IMAGINE advisor who will discuss your preferences and goals and answer any questions you might have. We use your profile to put together groups of international volunteers with complementary skills and shared interests so that you can be sure of joining a group of interesting and like-minded volunteers.
With over two decades of local knowledge, Sima Safari has the expertise needed to create an unforgettable, safe, and secure volunteering experience.
Project One – Mashati Village School
At the foot of Mount Kilimanjaro, in the Rombo district bordering Kenyaa, the Mashati village is 2.5 hours' drive from Kilimanjaro international airport.  
Project Two – Rongai Area School
Located in the Rongai area, close to Mount Kilimanjaro trek entrance and west Kilimanjaro National Park.
Project Three – Garamtony School
 Located just out of Arusha City at the foot of Mount Meru, bordering Arusha National Park, and  a 1-hour drive from Kilimanjaro international airport
Three Projects on the slopes of Mount Kilimanjaro and Mount Meru
You will work in a group headed by a team leader who has gained experience on a previous project. After you arrive, there will be a group discussion when assigned tasks and responsibilities are agreed. When possible, you will meet with outgoing volunteers and can learn from their experiences. IMAGINE advisors will be in constant communication to provide support and advice. 
Under the team leader's guidance, you will help refurbish school facilities undertaking minor construction projects, repair work and redecoration. You will have the opportunity to assist teachers and lead sports and other extra-curricular activities. The Children are eager to learn and respectful of teachers and mentors. Volunteers are role models, so you need to be considerate and approachable during your stay.
In Tanzania, free and accessible education is a human right, and by 2007 nearly universal access to primary education was achieved. Since then, while there has been progress, the country has faced significant educational quality challenges. Today, almost 2 million children between the ages of 7 and 13 years are out-of-school.
You should expect scarce school resources,  overcrowded classrooms and facilities that are often in a poor state of repair. Electricity is limited, and internet connections are rare. We aim to improve school infrastructure so that children can get the most out of their education.
Volunteers are encouraged to bring basic school supplies such as used books, pens, coloured pencils, and markers (baggage allowance permitting). These are very much appreciated but can also be found locally. Most of all, we want your enthusiasm.
You will have a shared, fully serviced room in a comfortable and secure lodge or villa near the project. Breakfast and dinner will be available at the lodge, and lunch will be available at the project location. Unlimited mineral water will be provided throughout your stay. Each volunteers group will have a 24/7 minibus and driver at their disposal
Prices
Cost £815 per person for  14 days (13 nights)
Included  
13 nights' meals and accommodation,
Airport meet and greet and transfers to a from the project
PCR test before the flight back to home country
Visa
All tools, materials and equipment and safety gear
Medical evacuation insurance
24-hour support from local staff
Each group will include a fully equipped and qualified first aider who will have access to a 24/7 medical doctor
Excluded
Predeparture PCR test in country of origin
On arrival Covid test booked before departure from the country of origin $25
International flights approx. £400– £500 depending on the point of origin and season
Safety boots
Travel insurance.